Suburb Profiles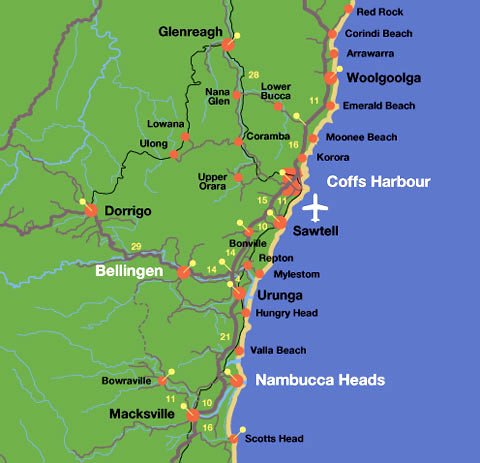 Coffs Coast - Regions & Towns
From the rainforest escarpments of Dorrigo to the golden beaches stretching from Scotts Head to Woolgoolga to the blue waters of the Solitary Islands Marine Park is the Coffs Coast region. It is a place of precious natural beauty with a gentle, temperate climate.
How you discover and enjoy the region is up to you. Tour along the coast for maritime scenery and seaside towns, divert inland for quiet country lanes, farm-fields and historic villages or stay put with feet up for some pampering, rest and relaxation..
For the more energetic, take a short-walk in a national park among cathedral-like World Heritage forests, or through open coastal heath or along the dunes and Pacific seashore. The region has over 20 National Parks, State Forest and nature reserves. Our wildlife ranges from migratory Humpback whales (June - November) and wedge-tailed shearwaters (November to April) to territorial white breasted sea eagles and Osprey. In some parks over 120 bird species have been recorded. Marsupials too - possums and pademelons, bandicoots, flying foxes, sugar, pygmy and greater gliders.
For adventure, choose from sky-diving, scuba diving, white water rafting, horse riding, game fishing, surf rafting or surf board riding. Family fun is plentiful too - whale watching, water slides, indoor rock climbing, go-karting, fishing, taking in a movie or a picnic on the beach or shady riverbank.
If you enjoy trying local cuisine - there are some great eateries. There are cafes and restaurants offering local seafood, modern creative cuisine and variety of regional Asian dishes. In towns from Woolgoolga to Bellingen to Nambucca Heads you will discover relaxed, casual dining on offer in pubs, clubs, cafes and restaurants.